Following her
stellar performance on Fallon
last night, Hillary Clinton made an appearance at the Union Diner in Laconia NH and then went on
The Situation Room
with Wolf Blitzer.
For those who thought Carly Fiorina's stern assaults last night were worth anything, Hillary cited her many accomplishments as recorded in her books. Her work as FLOTUS and NY Senator as well as her many accomplishments at the State Department are recounted in
Living History
and
Hard Choices
. Her State Department record is also archived in detail on this blog. As for Fiorina's solemn eyewitness account of a video, Hillary clarified that situation as well.
The former secretary of state rejects quip by Republican presidential candidate and lists ceasefire between Israel and Hamas among achievements

Hillary Clinton: 'If anyone is interested, there is a long list of what I've done and I'm very proud of it.' Photograph: Faith Ninivaggi/Reuters

Hillary Clinton

has dismissed attacks upon her during Wednesday's Republican presidential debate as political rhetoric and defended her track record in government after it came in for the most fierce criticism of the night from the only other woman in the race for the White House, Carly Fiorina.

"I'm very proud of it," Clinton said of her time as secretary of state in the Obama administration, in an interview on Thursday on CNN.

SNIP

"If anyone is interested, there is a long list of what I've done and I'm very proud of it," she said.
Clinton itemized: "orchestrating a ceasefire between Israel and Hamas and putting together the coalition that led to international sanctions against Iran" as the top items on her list.
Read more >>>>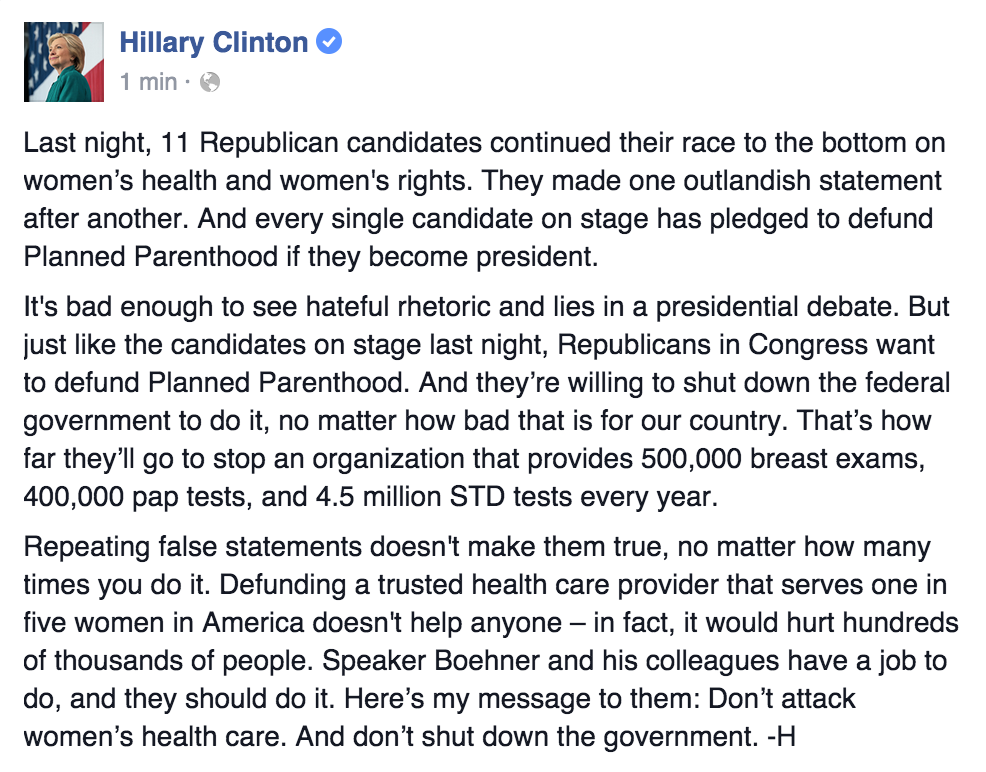 Fiorina made her comments with a rock-hard, stone-cold demeanor and in an ominous voice. Hillary refuted it all easily. She was open, at ease, very thorough, and cheerful. She may have been told by her baby daughter "No sing," but Hillary's voice is actually quite musical as is her laugh.
Hillary to
@SpeakerBoehner
: Shutting down our government over a partisan attack on Planned Parenthood is just wrong.
https://t.co/m7ZEPnkjf6
— Hillary Clinton (@HillaryClinton)
September 17, 2015